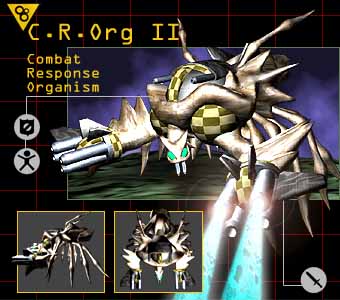 The second in the popular Combat Response ORGanism series, this gigantic cyborged silicon-metabolism "insect" features class 9 particle cannons, dual needle-beam plasma emitters, and a fully integrated organometallic chassis. The C.R. Org II lacks independent space travel ability, but Ultranium armor plating and a supplementary sentience attack computer system make it a fierce foe.
The C.R. Org II, in both basic and upgraded versions, tends to be indiscriminate in its attacks, leading to serious collateral damage to enemy populations.
Adding the Guir TK Helmet upgrades this unit to the C.R. Org II v2.