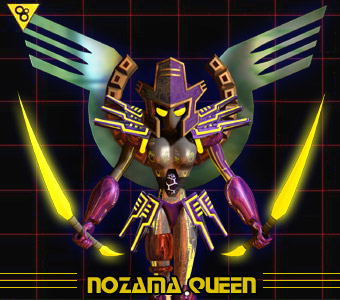 Smarter, faster, and far more formidable than an ordinary Nozama Fighter is the Nozama Queen. She acts as a communications nexus for Fighters, coordinating them and increasing the effectiveness of their attacks.
A world with a Queen in its base fleet will spawn from 8 to 12 Nozama Fighters every turn at no cost in Ultranium. However, worlds with more than one Queen do not get any extra spawn.
The Nozama queen license may only be purchased when a Nozama Queen is present on that world. Only Nozama can buy or possess the license to create Nozama Queens, though a Queen can be sent to any race in a gift fleet.

All Nozama Fighters get +20 SP if a Nozama Queen is in the same fleet.