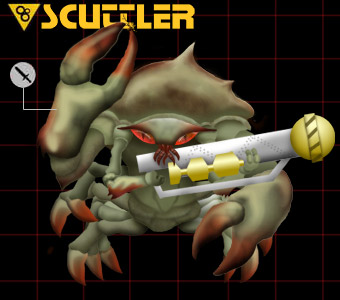 In their post-battle bliss, victorious Arachnon warriors shed pseudo-spores which germinate in the bodies of population casualties, emerging as crablike Scuttlers. The new-hatched Scuttlers eat each other, and everything else nearby, until the survivors reach adult size and semi-sentience. At that point they can be commanded by regular Arachnon and become useful fodder for the next battle.
A mature Scuttler weighs about 200 pounds and is smart enough to use simple tactics and weapons . . . but even unarmed, a Scuttler is formidable. Its shell can turn most projectiles, its claws can cut through battlesteel, and its 14 legs can propel it over any terrain. Scuttlers fight equally well in heavy gravity and no gravity at all, and have been known to survive in vacuum for up to a month.
Fortunately for other races, the Arachnons have never learned how to breed Scuttlers without slaughtering population on a planetary scale. There is no Scuttler license. When Arachnons win a planetary battle, as either attacker or defender, Scuttlers immediately appear on the world. The number of Scuttlers is equal to 10% of the population killed in the battle (round up). Smaller numbers of Scuttlers will continue to appear on following turns - about half as many each turn as the turn before. There is no other way to create Scuttlers.
The original Scuttler art (drawn by Justinius' son Timmy at age 7) is available in the avatar library for UltraCorps subscribers.