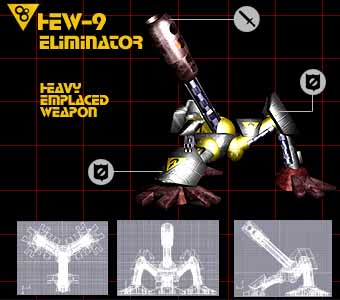 The Acutronics Heavy Emplaced Weapon is a staple of planetary defenses across the galaxy. Its potent class 8 inversion cannon is a threat to any target. Its low cost and quick build time make it highly affordable, and production facilities for the HEW-9 are found on many neutral worlds.

Its main weakness is its shield system, which relies on local emplacement, since the designers never intended this unit to be used in an attack role. A HEW-9 is almost defenseless when it is not on the ground.

For a far greater punch, this unit can be upgraded to the HEW-10 with the HEW Upgrade Kit.

Defensive strength of the HEW-9 is almost nil unless it is in a base fleet.