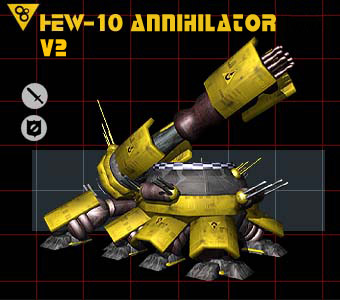 This unit is created by upgrading an HEW-9 Eliminator with the HEW Upgrade Kit.
Acutronics combat engineers call this colossal energy cannon "Big Bertha." It is far superior in both offense and defense to its predecessor, the HEW-9. But, like the HEW-9, it is intended for a defensive role, and designed to operate from solid ground . . . . it becomes pathetically easy to kill when in a space environment.

Defensive strength of the HEW-10 is almost nil unless it is in a base fleet.