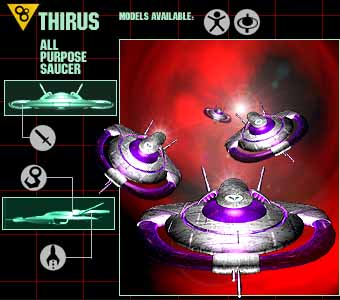 The Thirus Saucer combines excellent speed, cargo capacity, and combat effectiveness. It is a very popular medium-level combatant, especially dogged in defense, and production facilities are found on neutral planets throughout the galaxy. This was originally an Orn design, and the Orn are still the best saucer pilots.

Although such saucers have reportedly abducted natives of primitive worlds for research and genetic experimentation, no such incident has been officially documented.

All Thirus Saucers at the same world as a friendly Boron Recon Buggy v3 get twice as many attacks.

Thirus Saucers in Orn fleets get +10 DF.